ALOHA and welcome to my website!
I hope you enjoy your stay.
See the Appearances section to find out where you can see me in the upcoming months!
I'm sharing some of my favorite pictures in the gallery, so take a look. There are photos from all parts of my career and some fun ones from my personal collection.
Also I'm sure you'll enjoy my behind the scenes look at Magnum P.I. in my book. I promise you'll discover secrets from the show you never knew!

NEW! Personalized Videos!
You can now order a personalized video, from me, for any occasion on CAMEO!
Visit https://www.cameo.com/larrymanetti to order your personalized video.
Email me at info@larrymanetti.com with any questions.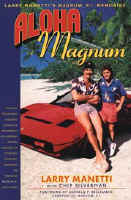 In Aloha Magnum, the first-ever book about Magnum, P.I., I tell all!
I reveal what really went on behind the scenes during Magnum, P.I.'s successful eight-year run

Find Aloha Magnum: Larry Manetti's Magnum, P.I. Memories on Amazon.com
or Order Here!